Thursday, September 16, 2004

Gunga Dan
(with apologies to Mr. Kipling)

You would gulp your gin and beer
Back before the Blogosphere,
When the majors had exclusive news and features;
Now you sip a scotch or lager
Reading fact-checks from a blogger,
An' no longer lick the boots o' network creatures.

Now on Nash-nal News at prime,
Where I used to spend my time
A-watchin' all the stories I could scan,
Of all them fibbin' crew
The weirdest man, we knew,
Was that bloomin' lyin' anchor, Gunga Dan.
He was "Dan! Dan! Dan!
You lyin' lump o' swagger, Gunga Dan!
Hi! slippery scoops, don't sweat 'em!
Stories, get 'em! Never vet 'em!
You squidgy-tongued old idol, Gunga Dan."

The suit 'n' tie 'e wore
Fit the CBS décor;
As a fashion plate was Rather some behind.
For a bit o' twisted gag
Once 'e swapped 'em for a rag
An' Afghani negligee; on goat 'e dined.
When the Rooshian troopers lay
In a valley far away,
To leave this 'eat, 'e loped and bloomin' crawled.
They shouted "TASS was by"
Saying Rather was the guy
Who stoned Afganis three and left 'em sprawled.
It was "Dan! Dan! Dan!
You idjit, what the mischief was your plan?
It was in the local weekly,
So you gotta take it meekly
See, the press don't 'ave to prove it, Gunga Dan!"

'E would pick 'n' choose each one
'Till The Wall Within was done,
An' 'e always seemed to know the use o' smear.
There 'e charged they burnt an' cut
An' 'e made our boys the butt,
As 'e pushed it there on TV, with a sneer.
With the morals of a hack
'E would press on this attack,
An' watch 'em writhe; the soldiers knew a liar,
An' for all 'is dirty 'ide
'E was dirtier inside
When condemnin' brave men wounded under fire!
It was "Dan! Dan! Dan!"
Accusations kickin' spots on boys in tan.
When the facts was rooted out
You could 'ear B. Burkett shout
"You've lied again, you bastard, Gunga Dan"

I shan't forgit the night,
Though 'e thought the risk was slight,
'E 'ad copies where a record should 'a' ran.
An' then raving as though cursed,
As 'is standing finally burst,
Was our good old bloomin' lyin' Gunga Dan.
So I clicked a bunch an' read
As the blogger's studies spread
On the superscripts, an' kerning in the scan.
Of the kool-aid that's been drunk
This was crawlin' and it stunk,
Was this newsy little riff from Gunga Dan.
It was "Dan! Dan! Dan!"
'Ere's a beggar they will laugh out to Japan;
No more 'apless will he 'ound,
As 'is guts are on the ground:
"For Gawd's sake git an inkling Gunga Dan."

'E carried us astray
An' 'e shows a great decay;
'Ere's a message come for all the Meedja clan.
For your standing to abide,
It is easy to decide;
It's 'oped you cease to think like Gunga Dan.
See, 'e's lookin' rather drawn
With 'is 'onor now in pawn,
And ol' CBS's sponsors on the pan.
'E's now roastin' on the coals;
Tell it straight, to save your souls!
Ah! I wouldn't want the 'ell of Gunga Dan!
Yes, "Dan! Dan! Dan!
You lazy sack o' shoddy Gunga Dan!
Though it's CBS that made you,
It was you, yourself, who flayed you,
You're no better than a liar, Gunga Dan!"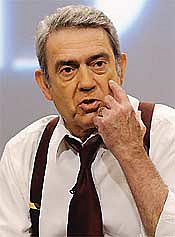 Thanks to QandO for the link to the Anne Morse article.















posted by Stephen at 9:20 PM | Plink